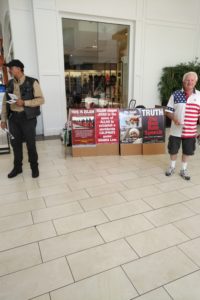 CJC Public Outreach Today
Today was a great day on our "Public Outreach" event. We passed out 1700 brochures and all of us had many positive discussions with the public. Thanks go out to Pastor J, Maria and Jim for coming on out today to support the effort in educating the public. Pastor J is fluent in Arabic which always comes in handy as Muslims like to tell us that since we do not speak Arabic we cannot understand the "real Islam". That's when Pastor J steps up. And Maria, who is fluent in Spanish. Being female and speaking Spanish she connects real easy with many of the people walking by our booth. We now have two different brochures translated into Spanish.
One of the highlights today was a young girl who came walking up to us with a friend of hers. She wanted to know just what we were doing. We explained that we go out to educate the public on the truth of Islam, mainly the political side. After a couple of minutes she really opened up and told us that her and her family escaped Iran just three years ago and has been here in America for just two years. She began telling us of all the horrors they endured while in Iran. Starting at the age of six she had to wear a hijab. One day in school, one of her friends had a lock of hair which had come out of her hijab. When the instructor noticed she was immediately taken away and had her entire head shaved. Her parents would rarely let her go out of their home other than school for fear of being raped. We talked about many things. One being young women wearing the hijab here in the United States which she just cannot understand. The only thing she can think of is that they do not understand Islam. Her grandmother still living in Iran is not doing well health wise. But she said she cannot go to see her or the regime will kill this girl. She wishes she could talk to the public and inform them of Islam as she would not trade anything for living here in the U.S.
Many other people came up asking questions and taking brochures. One man who said he was a Muslim was fascinated by all of our brochures. He took one of each and read many at our booth. He too said he was amazed as that he did not know all of this.
We will have another one in two weeks. Please come on out and support us or start up your own "public outreach" in your town. If you cannot come out please visit our website and click on the donate button. We can use some financial support in printing up the brochures. But get involved in some way. We must as there will not be policy changes coming from the top. I will post a couple of pictures of today's event on our website, so take a look later at: www.CounterJihadCoalition.org
Once again thanks to Maria, Pastor J and Jim for coming on out today.