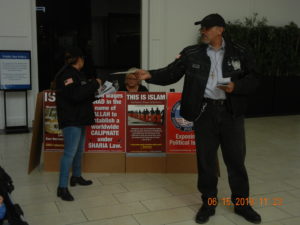 CJC Public Outreach Today
Our "Public Outreach" today took us up into Los Angeles. The number of shoppers was a little less than usual for this venue. Maybe due to vacation and beach time as the weather was great. We passed out over 1,000 brochures and had several positive discussions. Thanks to Maria, Pastor J, Diane and Jim for coming out to educate the public on political Islam.
We didn't encounter any obnoxious, loud mouthed Islamic protestors today other than a few snide remarks from passersby. Several thank you and positive comments.
Our three most popular brochures are #1 Islam in a Nutshell Peaceful or Violent, #2 Islamic Sharia Law and #3 Islamic Civilization Jihad.  Download them and educate your neighbors and friends
We can always use your donations to help offset the cost of printing up our brochures.
We are working on a new program to educate people on what they can do and how to do it. We have identified six different fronts that must be addressed to win this war. We will tell you which ones and how to go about educating those people.
Thanks again to Pastor J, Maria, Diane and Jim for coming out today making it a great day in educating people on the tenets on Islam.