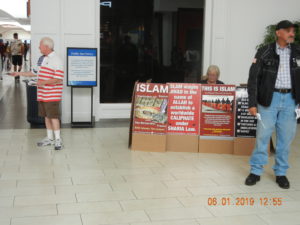 CJC Public Outreach Today
We had another great "Public Outreach" today. The day started off a little slow but picked up later. Thanks go out to Jim, Diane and Pastor J for coming on out to educate the public on Islam. By the end of the day we had passed out over 1,000 brochures. Many more people than normal stopped to talk with us and thank us for what we are doing. Three couples from different Calvary Chapels stopped to thank us and said they are very aware as their Pastors continually educate their congregations on the evil of Islam. We have heard this from many people attending Calvary Chapels. So thanks go out to those Pastors for educating their flocks on the truth and facts of Islam.
We did receive a few middle finger salutes from those followers of the Religion of Peace. One very irate Moslem stood shouting at Pastor J for quite some time. It was the usual denial, you don't know what you are talking about and you are lying. He kept threatening Pastor J saying come outside with me right now I am going to set you on fire. About that time is when security intervened. As they were walking away I heard the Moslem keep saying he wants to file a report on us, which I am sure he did. I think we captured this ordeal on video and I will post it later on our website. I will also put up a picture from today so stop by our website and take a look: www.CounterJihadCoalition.org
Remember that you can download all of our brochures from the website. Educate your neighbors and friends on the facts. You can also click on the donate button and send us whatever you can to help pay for the brochures we hand out.
Again thanks to Jim, Diane and Pastor J for making it a good day for the Kafir.