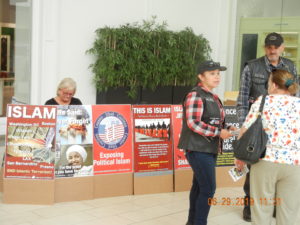 CJC Public Outreach
What started out somewhat slow turned into a very good day for educating people on the facts of Islam. Thanks to Maria, Pastor J and Diane for coming out to inform the public. Several people stopped to ask us what we were doing. When told that we were educating on the facts of political Islam, this brought on more questions. Almost all were not aware that Islam is much more than a religion. Actually religion comprises a small part of Islam. The majority of the Quran and Sunnah is about the political side, military, social, politics etc. which surprised most of them. By the end of each of these conversations they thanked us and took a few different brochures with them.
Now that Ramadan is over, the Moslems were out in force yesterday. Now they don't sleep during daylight hours. It started off with the usual few stopping to take pictures on their smart phones. As they walked away many seemed to be texted and then would get on their phones making calls. This as I have mentioned in previous posts is a flag to watch out for more Moslems making their way to our booth. Sure enough in a short period more started appearing and started their usual rants by calling us names and yelling we did not know what we were talking about. One tried telling us that Islam is no worse than Christianity. He claimed that many members of different street gangs were Christians and committed the same atrocities. There is no way you can try and reason with these volatile people. One Muslima dressed in western attire was particularly outraged by us passing out the truth on Islam. Security intervened to keep the peace and asked her if she wanted to file a complaint against us. Yes you read that right, security who theoretically is supposed to be neutral and there to keep the peace escorted her down to the security office so she could lodge a written complaint against us. We captured a few of these encounters on tape. I will try uploading them to our website, so take a look in a while at: www.CounterJihadCoalition.org
Maybe we should start filling complaints against some of these obnoxious Moslems intruding into our space. Security ended up intervening a few other times throughout the day.
But thanks to them and the Sheriff Deputies, nothing got out of control.
Once again thanks to Diane, Pastor J and Maria for helping to spread the truth. Remember all of our brochures can be downloaded from our website at no cost. The first three listed are our most popular brochures. Spend some time educating your friends and neighbors. We can always use your financial support to help offset the cost of printing up the brochures. Just click on the donate button. Folks the left and Islam have formed a strong bond and we need to be out there pushing back on this alliance.