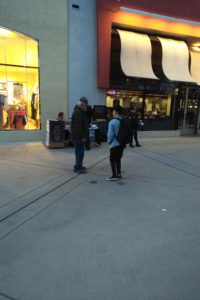 CJC Public Outreach
On a nice evening in Orange County, CJC had a "Public Outreach" educating people on Islam. It seemed that more people were interested in getting a brochure and talking than what is normal. Many conversations with both Muslims and non-Muslims throughout the night took place. All were civil, even with the Muslim passersby. Thanks go out to John, Linda, Pastor Dave, Dan, Melissa, Maria and Pastor J for coming on out to educate people on the facts. By the end of the night we had passed out over 200 brochures. Maria once again proved valuable in that she is fluent in Spanish and knows Islam. We now have two brochures translated into Spanish and several were handed out. Thanks go out to Jose for translating our Islam in a Nutshell and Sharia brochures into Spanish.
One male Muslim stopped and spoke to us for a long time. He questioned our poster showing the similarities between ISIS and Mohammed. He wasn't combative but instead said he had to disagree with some of the similarities. Taqiyya or lack of knowledge? We were not sure.
A positive from last night is that many of the passersby were in their 20's and 30's and took brochures. Hopefully they take the time to read it and then pass them on to someone else.
Thanks again to all who came out and made it a successful night.