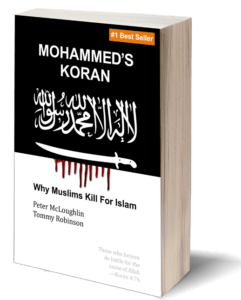 Koran Banned by Amazon – It Must Be Hot!
                                                                                           Louis Palme
Amazon UK's best-selling book in its category for 2017 was "Mohammed's Koran – Why Muslims Kill for Islam" written by Tommy Robinson and Peter McLoughlin. Readers gave the book over 1,000 five star reviews in the UK alone. Yes, it was doing quite well until the book was dropped from Amazon – both in Europe and the US. No one at Amazon is talking about who forced them to ban the book – was it CAIR or even the British government? Ironically, Amazon is selling 5 different editions of the same Koran translation – just sorted differently. Go figure.
Basically, "Muhammed's Koran" is Marmaduke Pickthall's 1928 translation in reverse chronological order.   It contains a well-written 100 page Introduction that provides background for the book project and exposes some of the main themes of the Koran.  The militant or offensive verses of the Koran's text are highlighted, and the "abrogated" verses are lined out (along with the abrogating verse and reference) for easy identification of these aspects.  The introduction is well-documented with 381 references just in that section!
The good news is that "Mohammed's Koran" is now being published and distributed from an "on-demand" printer in California. Business is brisk for this little custom printing house, which filled 1,500 orders in March alone. You can purchase it here —  http://www.mohammeds-koran.com/Kuffarphobia/store/  — for $25.75. (PayPal converts Pounds to Dollars, so don't worry about that.)  Whether for your own edification or for educating others, this Koran is quite useful in demonstrating why Muslims are hell-bent toward killing non-Muslims and their own "deviants."
Peter McLoughlin is well-known for exposing the Muslim-dominated child sex grooming gangs in Rotherham and elsewhere via his book,"Easy Meat." Tommy Robinson has been hounded and frequently jailed in Great Britain for his opposition to government and media censorship aimed at whitewashing the evils of Islam.