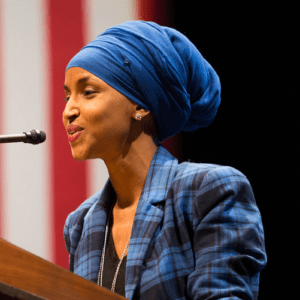 By Russ Kingston
The left in the House wants to condemn "anti-Muslim bias" along with anti-Semitism. This is an outrage. It's part of the red-green (Marxist-Islamic) alliance to take down America, Western culture, capitalism and free speech.
Islam is unlike any other religion. The OIC (Organization of Islamic Cooperation) contains 57 states (56 + "Palestine," as in, illegally occupied by Israel.) For years the OIC tried (unsuccessfully) to criminalize criticism of Islam. The UN Human Rights Council's Resolution 16/18 (4-12-11) was the best it could do, deploring "serious instances of derogatory stereotyping, negative profiling and stigmatization of persons based on their religion or belief."
Which religion did the OIC want to protect? Islam, of course. The only religion which kills critics and apostates, hangs gays, stones adulterers, cuts off hands, feet and heads and  condones slavery to this day. No other religion does. Certainly not Judaism, which does none of these things today.
The OIC can't ever change Islam's anti-Western horrors. They're in the Quran, Hadiths and Ibn Ishaq's Life of Muhammad, his earliest biography. Muslims worship their texts and prophet, which is why Islam can't change. To do so requires changing the Quran and dropping Muhammad as a role model, which no Muslim will do. This freezes Islam permanently as antithetical to the West.
Muhammad said, "The earth belongs to Allah and his apostle." (http://www.quranexplorer.com/hadithebook/english/index.html?page=Hadith%2FMuslim%2F019.4363.html)
Islam's goal today is still worldwide conquest. In Europe and America, it fights Western culture from within. There's a Muslim Student Association on most American campuses. On 1-17-15, MSA West brought over a 1,000 Muslim students to UCLA, where loudspeakers blasted group prayers 8 times in a large open square. Muslim security tried to stop a visitor from filming it, blocking his cell phone with their hands. They threatened to call campus cops, then smiled when their faces were shown (https://youtu.be/EDNAuvGkzZg). On 1-18-15 I watched the Council on American Islamic Relations (CAIR) teach students to hide things from the FBI. Another speaker told hundreds, Muslims are a "nation to rule all others," Islam is a whole way of life and "Liberal values are not Islamic values."
Islamic Jew hatred began with Muhammad (http://www.quranexplorer.com/hadithebook/english/index.html?page=Hadith%2FBukhari%2F004.052.177.html).
It's in the Quran (check all 6 English translators, https://legacy.quran.com/5/82).
It's 1400 years old. Much older than the states of Israel and America. Muslims hide this. It's up to ex-Muslims and informed patriots to point this out.
Ilhan Omar's anti-Semitism parrots Muhammad's – and Islam's — ancient bias against Jews. The left wants to hide this.
You can't equate "anti-Muslim bias" with anti-Semitism. Jews don't want to conquer the world. Islam does. Islam is an ideology. Muslims are people. Not all Muslims are anti-Semitic. But Islam is anti-Semitic because Muhammad was.
If Islam were just a religion, no one would care. But it's also a political ideology with imperialist, totalitarian laws it wants to force on all. To succeed, it must whitewash its past, brainwash the young and ban criticism.
In the House today, the left's red-green alliance wants to muzzle Islam critics just like the OIC. Patriots must stop them. If America ever loses the freedom to criticize Islam, it will become the OIC's 58th Muslim state.
That must never happen!