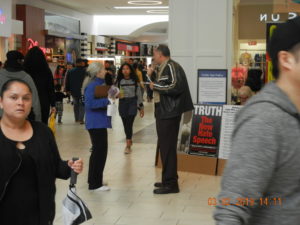 CJC Public Outreach
Today's Public Outreach was one of the best we have had in a while. What makes me say that is twofold. First the foot traffic was very high which somewhat surprised us, as it was a rainy day even though the mall we were at was an indoor mall. Normally people do not like to come out on a rainy day in southern California. And secondly we all had good conversations with a lot more people than we normally do. Thanks go out to Pastor J and Diane for coming on out and educating the public on Islam. Pastor J had several long conversations and one being with a literature professor from UCLA. She was very interested in what we were doing and why. Pastor J told her we would be happy to come and give a presentation at UCLA, but I don't think she will take us up on the offer. One Christian couple from Lebanon stopped and talked with us for a long time. The husband said the only way we can stop Islam is preventing them from building more mosques and tearing down the ones already built. I replied wouldn't that be nice if we could only do it. Diane chatted for a long time with an elderly man who wanted to know more about Islam and why we got involved doing this. By the end of the day we had passed out over 1100 brochures.
The day was very peaceful except for a couple of obnoxious Moslems who shouted the four letter words at us. Throughout the day there was anywhere between one and two Sheriff Deputies and two to five mall security guards right by us. At one point they all decided to get something to drink at the same time. Wouldn't you know it? Like clockwork a Moslem shouting F you came running at our booth and kicked over several posters and took off down the mall. The Sheriff Deputies came over to us and couldn't believe it as they were gone for less than 2 minutes. That's all the time it took for the wacko Moslem to try something. Many people asked us what they could do and how they could get involved. We pointed them to our website and said on there we have a brochure which tells people how to start up a "public outreach" in their city. Financial donations are also appreciated to help us offset the cost of printing brochures. We will see how many follow through with questions or donations.
I will post a picture of the day on our website later. So stop by and take a look. Thanks again to Pastor J and Diane for coming on out today.