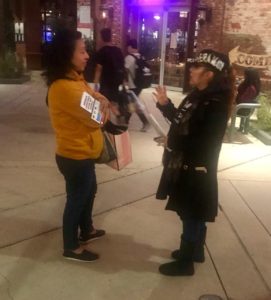 CJC Public Outreach
A little chill in the air on a Friday evening did not keep the shoppers home. They were out walking, shopping and full of questions. Thanks go out to Maria, Pastor J, Linda and John for educating the public. Once again Maria's fluency in Spanish proved useful as she carried out many conversations with Spanish speaking people.
Everyone kept busy answering questions people had on Islam. Pastor J spoke with one young lady who kept asking him well how do I know what you say is truthful. Pastor J opened his Quran and showed the lady the passages. And pointed to references in the brochure they were discussing. Almost a half an hour went by before she was satisfied and thanked Pastor J for his honesty.
General questions on Islam were fielded by all of us at the event. Once again thanks to all for coming on out and supporting our public outreach. All of our brochures which are factual, short and easy to read can be found here on our website. Just click the trifold button at the top left and you can download to read or print out any or all of them.