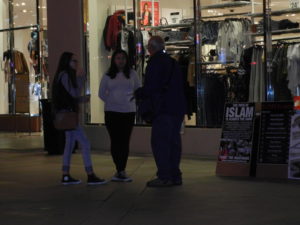 CJC Public Outreach in Orange County on Friday February 1 was a big success. We managed to get in an Outreach between the rain storms. Several people stopped to ask us questions regarding Islam. Many of these people were followers of Islam and it was obvious telling new converts from Jihadis. It is well known that Islam is a progressive ideology. By that I mean when Mohammed started getting his revelations while in Medina, they were peaceful and he preached to whoever would listen. It then progressed on to a political military ideology when he was in Medina. The new converts we spoke to last night were not familiar at all with the Jihad Mohammed carried out. They kept saying they were not aware of the political military side. So it was a very educational night for some of these new converts. They took several of our brochures and were anxious to read them.
The few Jihadis visiting our booth kept shouting that these are all lies. When one of us asked them to point out a particular lie, all they could say was that all of our brochures and posters were lies. Not one of them could point to anything specific. Their job is to keep these truths hidden from new converts. Slowly by slowly the newbies will be fed the truth of Islam. Until one day they will be told that Jihad is obligatory for all able bodied Muslims.
A good night for all of us. We passed out around 400 brochures. Thanks to all for coming on out to help spread the truth.