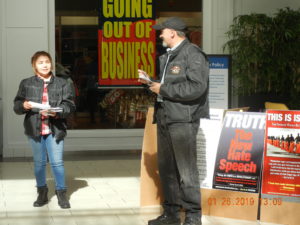 It's amazing how peaceful and informative a public outreach we can have when Sheriff Deputies are stationed by us.  Today they were there along with three mall security guards and it was a great public outreach.  I would like to thank Pastor J, Maria, Diane and Jim for coming on out today.  Having a couple of extra Kafirs gives everyone the chance to sit down for a while.  Maria who is fluent in Spanish was great having her there as there is a large Hispanic and Pilipino community.  She spoke to several families who otherwise would not have been sure of what we were doing.
By the end of the day we had passed out almost 1,000 brochures.  All of us today had conversations with the shoppers and most were very positive.  Sure we had a few disgruntled Muslims, they just don't care for the truth being told.  One lady stopped and spoke with us for a long time.  She ended up wanting several of all of our brochures for passing on to her relatives and friends.  She wanted to know what she could do to stop this spread of Islam.  I told her we were working on toolkits for people that will tell them exactly what they can do.  Told her to keep checking our website or stop back from time to time.
Thanks again to everyone coming on out today and making it a very successful day.