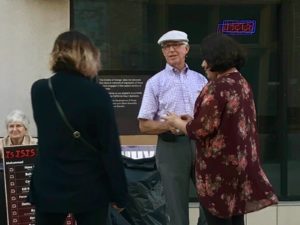 First, a very big thank you to John H, Pastor Dave, Pastor John, and Melissa for braving the winter weather at Orange Outlets last night.  Actually, the weather was surprisingly pleasant, no wind, and by our favorite location (Forever 21/Corner Bakery) is sheltered and well lit.
The evening was noteworthy because of the number of brief conversations that occurred: some supported our efforts and some did not.  We went light on signs, using our CJC identification signs at both ends of the table and the one "position statement" sign at the front.  While there's no way of telling, one might wonder if this rather soft approach helps us engage.
One major difference between the CJC table at Orange compared to Los Cerritos is that we simply don't get the traffic in Orange.  At best, we can pass out 100-300 trifolds in 2 hours.  However, we have more opportunity to talk.  Because enough people work the table, this allows us the luxury of being able to have conversations while following the strict rule of having only two people passing out information.
Linda