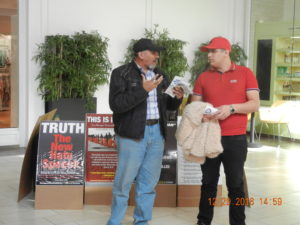 CJC Public Outreach
CJC had a great public outreach today to end the year. Thanks go out to Pastor John for coming out today to educate the public. At the end of the day we passed out a little over 1,000 brochures.
The day was a peaceful one thanks in part to the one sometimes two Sheriff Deputies close by and two mall security guards also. It is amazing that the followers of the religion of peace do not create any disturbances when the Sheriff Deputies are there.
Sure we had the normal snide remarks such as take your hate somewhere else, you should be ashamed of what you are doing, how can you be so hateful and on and on. By far the majority of people had positive comments and thanked us for what we were doing.
One young lady asked me questions for 15 minutes and then Pastor John arrived and she asked him another 15 minutes of questions. It would have been a good video as when she first arrived she hardly knew anything about Islam. And questioned both of us as how did she know we were telling her the truth. At the end she thanked us and took a copy of all of our brochures.
I will post a couple of pictures on our website later tonight, so take a look.
That wraps up the year for our public outreach events. We will be out again in 2 weeks. Hope others can join us then.
Happy New Year