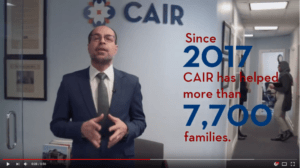 As-salaamu Alaykum — Peace be to you.
Today is #GivingTuesday. a day when you can show your support for CAIR and the important civil rights and advocacy work we do.
WATCH This short appeal.
Act soon. Facebook and PayPal will match a total of $7 million in donations, but those funds don't last long.
To support CAIR, donate here.
With your support, we can continue to do the important work of promoting justice, enhancing the understanding of Islam and empowering American Muslims.
Thank you, and may Allah bless you and your family.
DONATE TO CAIR TODAY
You may also text "GivingDays" to 41-444 and follow the steps to donate to CAIR.
Sincerely,
Nihad Awad
CAIR National Executive Director
P.S. — Please send this appeal to your friends and family, and post on Facebook, Twitter and other social networks. Remember: CAIR is a 100% tax-deductible (Tax ID 77-0646756) and zakat-eligible nonprofit organization.
Council on American-Islamic Relations
453 New Jersey Ave, S.E., Washington, D.C., 20003
Council on American-Islamic Relations Copyright © 1994. All rights reserved.