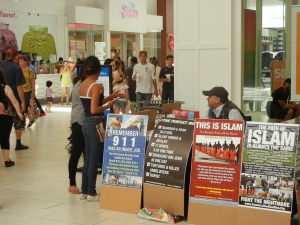 It started off as a typical day on a public outreach in southern California. Today we were focused on "The Perfect Man" according to the Quran. We put together a nice looking poster along with a fact filled trifold brochure. Before the day was over we passed out all of these brochures plus several hundred of our other brochures. First let me say thanks to Diane, Pastor J and Jim for coming on out today to educate the public. We always keep our eye open for spotters. The Moslems will send out their people to the venues we use. Then these spotters will make a few phone calls if they spot us. And that is what happened today. Shortly after we were set up and having a good outreach, a couple of young Moslems came by shouting at us for spreading lies. When I asked them to point out just one lie, obviously they could not. I offered them $100 if they could show me on a poster or in a brochure something that was not factual. They couldn't and just kept shouting these were all lies. When they decided they couldn't succeed off they went. That however was just the start. The next hour went along pretty smoothly except for the few passerby's that would leave snide remarks. Many people were happy that we were out educating people on the truth and facts. Then a couple of young Muslima's came over and starting yelling at the top of their voices these are all f___ing lies. You f____rs are spreading f___ing lies. Again they could not tell any of us where on the posters or brochures a lie was. We were just all f___ers spreading f___ing lies. Security came over and calmed them down. At one point I heard one of them say to security why can those f___ers spread f___ing lies? Security escorted them away finally after several minutes of a loud discussion. That though was not the end. They would return later on spewing the same vocabulary. Then things calmed down again and things once again were humming along. Then what turned out to be a Moslem came up to our booth and discreetly put a backpack underneath. He walked over and started talking to pastor J. I thought he must be a friend of Pastor J's who came out to help us. I was wrong. He started walking away and Pastor J said no he is a very irate Moslem. Pastor J motioned to security to stop the guy. Which they did and walked him back over to our booth. I told security he left a backpack underneath our booth. The Moslem refused to take the backpack. We started to take cover behind cement pillars and told security to either call the bomb squad or have they guy pick up the backpack. He finally agreed to very carefully pick it up and security escorted him away. Security will not say at least right now if he was arrested, if the bomb squad was called or what.   Was this a dry run or the real thing? Either way it shows the direction we are headed. Violence has become a tool for the leftist Marxists. The end justifies their means. I hope to find out what happened to him.
I will post some pictures on our website later on tonight. Stay safe and be vigilant when you are out and about in the public.
Again thanks to Pastor J, Diane and Jim for helping spread the truth today.