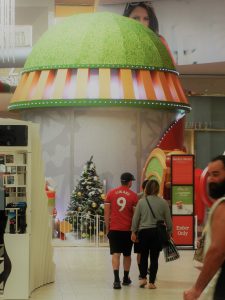 Santa's Workshop or Islamic Madrassa
This time of year houses are glittering at night with their Christmas lights, stores have the spirit of Christmas displays, and Santa workshops for kids to tell him their wish for Christmas and many streets are decorated with lights and wreaths. It is a festive time of year.
Last weekend we passed out candy canes to kids passing by our public outreach booth. Most parents were glad to get one of our brochures on the truth of Islam. We did however have many encounters with the followers of Mohammed. All were heated debates with us being depicted as haters, bigots, Islamophobes and others from those followers of the religion of peace.
A security guard was stationed right by us the entire time we were there. I really believe for two reasons. First to help ensure there were no violent incidents and secondly to make sure we did not violate any of the malls rules. You know like only being able to have three people at a time at our booth, making sure we did not step outside the five foot imaginary boundary. Those type of rules, in place to help make our time less enjoyable.
But for those Mohammedans, they can scream as loud as they want, refuse to leave when asked by security, spit on our displays, threaten us and file reports with security that we should not be allowed on site.
I should have taken the time to get a closer look at Santa's workshop. Was the workshop staffed with hijabi clad elves? Was jolly ole St. Nick passing out halal certified candy canes? Did camels replace the normally seen reindeers and sheep?
I will make another trip back to take some close up pictures of Santa's workshop.