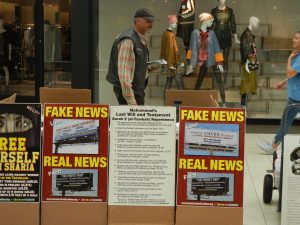 How can you have a meaningful debate with someone who continuously spews lies? That was the case today at our "public outreach" at Los Cerritos mall.
Pastor J, Jim and myself dealt with this on and off all day long.
The first Muslim came up when I was still setting up and started shouting you racist. He couldn't answer me when I asked him repeatedly what race is Islam. He refused a brochure I offered him saying if you find anything untrue or racist, let me know and if you are right I will change it.
The Muslims had a table right around the corner from us. It didn't take long for the Pakistani Imam to pay us a visit. Sheriff Deputies and mall security arrived instantaneously, like flies descending on honey. The Imam had stupid questions for each of us, such as how do you know Islam. I responded that I could read. Pastor J let him know he studied at al-Azar University. A Sheriff's deputy kept asking me if everything was OK. Not sure what he meant, he was right there.
Another Muslim tried to convince me that there was no place by the name of Medina. When I said maybe you know it by Yathrib, again he responded no such city. Mecca is the only holy site. Taqiyya, which means it is OK to lie to infidels if it is to advance Islam. Sad that you must lie about what you believe in, but normal for a Muslim.
Through all this malarkey we still managed to pass out over 1,000 brochures and have several intelligent conversations.
Thanks to Pastor J and Jim for coming on out today.