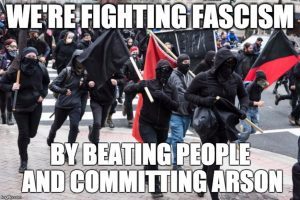 Where's the Beef?
By Chris Chrisman 8-26-17
Last Friday (8/25) on Real Time, Bill Maher and Jessie Jackson discussed the implications of the Charlottesville riots. They surmised that white conservatives feel they are losing their rights as more and more minorities are able to realize their own rights. They condemned this reaction as not only selfish but also because it envisioned the "rights" pie is fixed in size and for some to gain rights others must lose theirs.
This characterization of the "alt-right" is so blatantly wrong it needs to be challenged. America's embrace of multiculturalism and the "one world" ideal has gotten to the point that just about any criticism of society is condemned as racist and bigoted. Let's take five issues which were at the heart of the Charlottesville riots and see if they fit the "whites-losing-rights" pathology.
"Racist" immigration policies – The United States is a welcoming nation of former immigrants. There was a time when just about any immigrant was bound to be an economic asset. Today, however, we have an over-supply of unskilled labor, and unemployment in that category is high. In May 2016 the unemployment rate for workers over 25 years of age was 2.5% for college graduates, 5.1% for those with a high school diploma, and 7.1% for those without a high school diploma. Fortunately, there are many candidate immigrants with college degrees who can be put to work immediately in high-tech industries. Given an ample supply of both skilled and unskilled potential immigrants, choosing the former is just common sense. Our gestures of humanitarian charity should be to help the underdeveloped countries boost education and become self-sufficient.
In 1919, former president Theodore Roosevelt wrote, "We should insist that if the immigrant who comes here does in good faith become an American and assimilates himself to us he shall be treated on an exact equality with everyone else, for it is an outrage to discriminate against any such man because of creed or birth-place or origin. But this is predicated upon the man's becoming in very fact an American and nothing but an American. If he tries to keep segregated with men of his own origin and separated from the rest of America, then he isn't doing his part as an American. There can be no divided allegiance here. . . We have room for but one language here, and that is the English language, for we intend to see that the crucible turns our people out as Americans, of American nationality, and not as dwellers in a polyglot boarding-house; and we have room for but one soul loyalty, and that is loyalty to the American people."
"Black Lives Matter" – Too often, lately, the line between civil rights and civil disobedience has gotten blurred. In all but a few of the well-publicized cases of police violence against African-Americans, the incidents started with the African-American fleeing the police or refusing to comply with their orders. There are better ways to ensure "equal justice before the law" than defying the police. Now the momentum of the BLM movement has gotten to the point that criminals are given a "pass" if they shout "Police Brutality" loudly enough.
Blind Multiculturalism — The most cutting epitets today are "racist" and "bigot," and these are generously bestowed on anyone who challenges the culture of a minority group. The underlying assumption is that "all cultures are equal" and should be respected. So instead of helping the huddled masses come here and breathe free, we are moving large numbers of refugees from failed states into closed enclaves guaranteed to preserve their failed cultures. Rather than push for assimilation, minority advocates and the government invoke our civil rights laws to protect those failed cultures from any progressive innovation. Good examples of this are protection of people wearing blinding niqabs and the failure to prosecute doctors practicing Female Genital Mutilation.   We also look the other way when medical professionals from foreign cultures refuse to use sanitizers or refuse to care for patients of the opposite sex.
Historical Revisionism — At the center of the Charlottesville riot was the removal of a statue of Civil War General Robert E. Lee which was commissioned 100 years ago. To some the statue is a painful reminder of the Civil War and slavery, but to others it is a piece of art and a piece of American history. There are better ways of "footnoting" history without destroying statues or hiding them in a warehouse.   This historical revisionism has reached such a frenzied point that any reminder of a possible unpleasant past event seems to be a target: Was Columbus a hero or a villain? Are the X's in the NYC Metro station tiles Fascist symbols or are they merely decoration? Should a radio announcer with the name Robert Lee be allowed on the air? Should the USC mascot horse, Traveller, be renamed to avoid its association with Robert E. Lee? Will cities and streets have to be renamed to avoid any historical reminders that might hurt sensitivities?
Denial of Freedom of Speech — The back-story of the riots in Charlottesville that few people will acknowledge is that many of the demonstrators were hired at $25 an hour and bussed in to provoke violence on both sides of the controversy. The same phenomenon was apparent during the Presidential election campaign. While healthy debate and freedom of speech are essential to a democracy, these are being shut down by the same factions that support open borders and multiculturalism. This week, a free speech forum at Berkeley was cancelled for fear of violence. Conservative speakers are being ostracized from college campuses and civic organizations. Even the social media and internet funding sites are shutting down on those who do not agree with their views. In 1975, Ronald Reagan predicted, "If fascism ever comes to America, it will come in the name of liberalism." Today we are seeing this develop right before our eyes.
So it's not that white conservatives fear losing their rights, but rather that many of the fundamental values that make America what it is are being challenged in the name of a one-world society and the blind embrace of multiculturalism. Some sinister bodies are, indeed, eating away at the American pie.