Here is what happens when we ask Muslims why they pray 5 times a day.
Meet the 2.5 million 90-foot-tall virgins awaiting Jihadists in Muslim heaven.
A look at Islam's specialty: gender and religious apartheid.
Obama's pathway to the "borderless world".
What Islamic theology really says about the "houris" — and why Jihadis kill and die to reach them.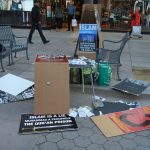 Religion of Peace performs vandalism and violence on 3rd St. Promenade.